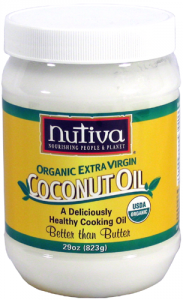 Purchase Nutiva Certified Organic Extra Virgin Coconut Oil at Amazon.com.
Because it is rich in saturated fats called "medium chain triglycerides," coconut oil is particularly ketogenic, making it especially suitable for Fat Fasting. It also stimulates thermogenesis – in other words, it increases body temperature slightly, burning off extra calories. Too, medium chain triglycerides can be used directly by the muscles for fuel, making them a source of quick energy. All of this makes coconut oil valuable to us.
Certified organic extra virgin coconut oil and non-GMO
Nutiva Made from fresh coconuts, not dried copra
Cold-processed under 104 degrees
Expeller-pressed within two hours of chopping
Unrefined
Chemical-free
Unfermented – Other brands utilize heat and fermentation, waiting more than 10 hours between chopping the coconut and pressing the oil, adversely affecting flavor.
Unbleached
Undeodorized
Unhydrogenated
Pure white like fresh coconut
Tastes like fresh coconut
Has a fresh coconut fragrance
Product of the Philippines
Traditional palms only – no hybrid varieties – Nutiva extra virgin coconut oil
There is no comparison between Nutiva certified organic raw, extra virgin coconut oil, with its light taste, pleasant aroma, and pure white color, and industrialized coconut oil, with its bland taste, faint aroma, and off-white color. Please note that any tiny brown specks found at the bottom of Nutiva Coconut Oil are from the coconut fiber and are indigenous to extra-virgin coconut oil.
Nutiva Organic Extra-Virgin Coconut Oil, is about 50 percent lauric acid, a rare medium-chain fatty acid found in mother's milk that supports healthy metabolism and is now being studied for its anti-fungal, anti-viral, and anti-bacterial health-protecting properties. Overall, coconut oil contains 92% saturated fats, and only 1% Omega-6.
Nutrition Facts
Serving Size 1 Tbsp. (14g)
Servings Per Container 60
Calories 120
  Calories from fat 120
Total Fat 14g
  Saturated Fat 12.5g
  Polyunsaturated Fat .5g
  Monounsaturated Fat 1g
  Trans Fat 0g
Cholesterol 0mg
Sodium 0mg
Total Carbohydrates 0g*
  Dietary Fiber 0g
  Sugars 0g
Protein 0g
Ingredients: 100% raw organic extra-virgin coconut oil.
Certified as organically grown and processed by QAI. All coconuts are Non GMO (Genetically Modified Organisms).
Purchase Nutiva Certified Organic Extra Virgin Coconut Oil at Amazon.com.
For a list of all ingredients suggested in Fat Fast Cookbook, please visit our page on Amazon.com: Fat Fast Ingredients for Fat Fast Cookbook.