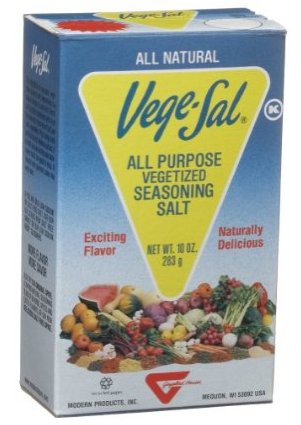 Purchase Vege-Sal from Amazon.com.
Use Vege-Sal as a way to add salt and herbs to your Fat Fast recipes.
Vege-Sal was originally created by Gaylord Hauser. This superb blend of natural herbs spices leaf and root vegetables plus sea kelp can add flavor to most dishes.
Directions: Sprinkle on your favorite meals in place of salt.
Ingredients: Salt crystals (earth and sea), vegetable mixture (alfalfa, celery, onion, carrot, parsley, spinach, kelp, beet root), soy sauce (water, wheat, soy-beans, salt), hydrolyzed soy protein (no added MSG), molasses and dill seed.
Purchase Vege-Sal from Amazon.com.
For a list of all ingredients suggested in Fat Fast Cookbook, please visit our page on Amazon.com: Fat Fast Ingredients for Fat Fast Cookbook.